My Overall Rating
For some time I had been toying with the idea of purchasing a smartwatch as a useful tool for adventuring. All I really wanted from a watch was:
The time (obviously)
Mapping with tracking and grid referencing capabilities
Altimeter
GPS
Good battery life
After spending a ridiculous amount of time looking at ridiculous amounts of different watches, I discovered the Suunto Traverse and it ticked every one of my requirements plus a little extra.
Before I go straight into the review, let's start with the basic specifications:
| | |
| --- | --- |
| Measurements | 50 x 50 x 16.5 mm |
| Weight | 80g |
| Bezel Material | Stainless steel & Mineral crystal glass |
| Case Material | Composite |
| Strap Material | Silicone |
| In The Box | Suunto Traverse Graphite, USB cable, quick guide, warranty booklet |
| Price | Approx. £175.00 (at time of purchase) |

As mentioned already, I was after a fairly decent, mid range smart watch with mapping and GPS etc. to use as a useful backup tool for my usual navigation tools (map and compass) to avoid using various mapping software on my phone and the Suunto Traverse is just that.
This is the first time I've ever owned a smart watch, and I wouldn't necessarily call it a smartwatch as it doesn't do what I've seen others do like call people or send messages, but I've got a phone for doing that so it doesn't bother me. The Traverse is described as an Outdoor Watch by Suunto, and I would say that makes sense. You can, of course, use it everywhere for whatever reason, but I would definitely say it's suited best for the great outdoors as the name suggests, it's brilliant to use whilst 'traversing'.
I think it'll be easier to break this review down into sections, based on what the watch can do and what I've used it for so far:
Initial Set-Up
As you open up the box, you'll find those things listed above inside. The quick user guide is just that, don't expect anything very in depth and particularly useful – it's really only any good for your intial set-up.
Set-up is ridiculously easy. Turn it on, follow the instructions, plug it in, job done! You can get it set up in no more than 5 minutes.
You can change the formatting to metric or imperial. Mine is set to meters and kilometers and degrees Celsius.
Intial set-up – DONE
Telling the time
Does this watch tell the time? It sure does.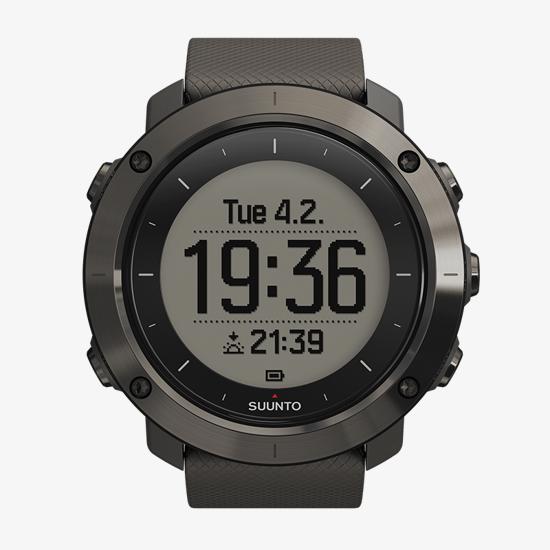 As far as I can tell, it's digital only and it's set by GPS so it's more accurate than setting it by the clock on the cooker which was set by the clock on your wall which was set by the clock in the car which you set about 5 years ago and never changed to meet daylight saving, so it's either an hour fast or slow, so who knows?
It also tells you the time for sunrise and sunset that day.
Telling the time – DONE
Mapping & GPS
The mapping is powered by the accompanying software used by Suunto called Movescount. Movescount is a whole other story and probably deserves a review for itself. Essentially, you create your route on Movescount then plug your phone into your laptop or desktop (whatever), and sync it up. The map moves across to your watch straight away.
There are two flaws to the mapping I have discovered so far.
You cannot sync the Traverse in any other way. You must plug it into your laptop or desktop. It will not do this 'wirelessly'.
If you are used to all the very helpful features and symbols, contours etc. etc. on your OS Map, then forget it, you only get the line of your route and absolutely nothing else.
Despite these flaws, following the route is remarkably accurate thanks to the GPS. You can view your route in whole, so you can see where you are along the route, or you can have it zoomed into your current position allowing you to see the direction changes in more detail.
I would not rely on this as a main source of navigation (I would always use map and compass) but it is a very very handy back up tool and that's exactly what I wanted.
Along the route you can add various POIs (Points of Interest) which you can then sync back up to Movescount when you next plug in. You can also add these POIs whilst creating your route in the first place, and depending on what the POI is, it has a different symbol – in that case you could add your useful symbols from an OS Map manually should you want to, but they aren't the same. You can then set up alerts to make your watch beep when you are approaching each POI. As you move along the route, your own path is marked with a dotted line so you can see where you have been in comparison to your planned route. Your position is marked with a big triangle which points in the direction the watch is facing.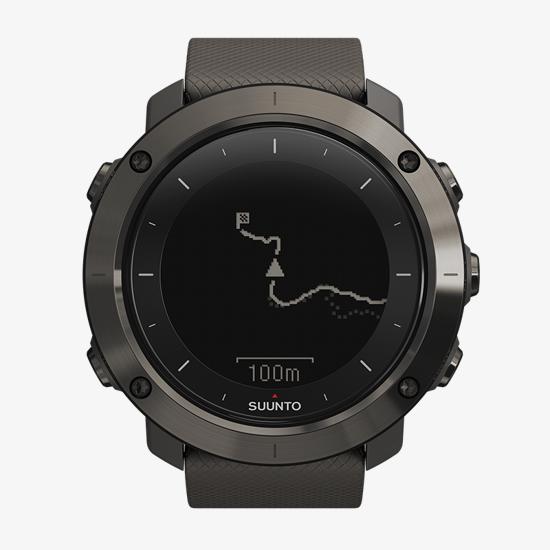 If, like me, you use Viewranger to plan all of your routes, you can upload your GPX file route into Movescount and it'll map it out for you straight away, so you don't have to use Movescount to plan your route. This will obviously work with any other mapping software where you can download routes as GPX files.
You do not have to use the route planning though. You can record your own route and add POIs as you go along then upload that to Movescount when you plug in next.
GPS is great. The Traverse also works with GLONASS which I understand to be the Russian version of GPS or something like that. It's pretty quick to pick up a GPS signal (takes seconds) but, like all GPS devices, can be effected by the weather or built up surroundings.
When you complete your walk following the route on the Traverse, hit STOP and it will give you loads of stats like:
Time taken
Distance
Altitude differences
Steps taken
Plus more
There is also a built in compass which obviously points north and gives you your heading degrees.
The Traverse also provides grid references for, as far as I can tell, pretty much all over the world. Mine is obviously set to BNG (British National Grid) but you change it for wherever you are.
There is so much more yet to discover I think, but I hope that's given you a good insight into the mapping capabilities etc. so far.
Mapping & GPS – DONE
Altimeter, Barometer, Thermometer
Does this watch tell you your current altitude above sea level? YES
I am sure it does more than that, and I am sure you can set alarms to go off when you hit a certain altitude too.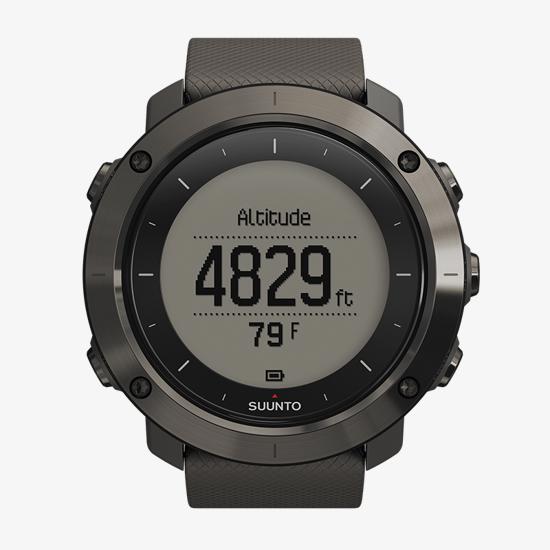 The barometer alludes me, I'm not going to lie. It tells you if the air pressure is going up or down but I'm not sure what that means for me. I haven't played around with that bit so much yet, so I can't comment on much more.
The thermometer does it's job – it tells you the temperature. One issue, though, is the sensor is under the watch so it will detect your body heat too, so you will not get a 100% accurate temperature by a long way. You need to take the watch off and leave it for some time to measure the temperature accurately.
Altimeter, Barometer, Thermometer – DONE
Battery Life
The battery life isn't terrible, as long as you are just on normal 'telling the time' mode. As I've said, this is my first smartwatch/outdoor watch so I don't have anything to compare it with.
On normal sitting on the sofa mode, the battery will last well over a week.
Get GPS and maps, following routes etc. running and the battery will possibly last a couple of days at best.
It comes with a USB charger, so it's not difficult to charge on the go if you have a power pack or a car or a house with electricity to go to.
Battery Life – DONE
So… why only 4 stars?
For somebody like me, who just wants some navigational aids and doesn't necessarily need to read messages or answer phones on my watch like a spy, I can't recommend the Suunto Traverse enough. It feels incredibly robust and I understand the glass is some special near indestructible stuff and that's perfect for me as somebody who isn't known for being particularly careful or gentle with things.
It can also go underwater as far as 100m, which I think is pretty far, I don't know… It can handle the deep end in your local swimming pool and you can take it for a paddle in the sea for sure. I'm not too sure what happens to it when it hits 101m either, does it just dissolve? Explode?
For me the only thing letting this watch down is the detailed mapping, or lack of it. I would prefer to be able to see a proper OS style map on the watch or something close to it – but it is in no way a deal breaker. It's still very handy.
It's also quite pretty.
Review of the Suunto Traverse Outdoor Watch – DONE
For more info and probably a slightly better write up about it, head over to Suunto for more!